YAESU G-2800DXC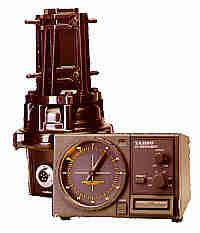 High performance rotator for large antenna systems.

Rotating angle 450 degrees, overlapping for 90 degrees for convenient selection of direction Extreme high braking torque (2500 Nm)

Adjustable rotating speed Gentle start of rotation Gentle braking before stop Control unit with direction control and 360 degree scale, endpoint arbitrarily selectable
Additional direction preset Mast diameter from 48 to 63mm
Mechanical and electrical end position sensor Rotator and control unit with connectors for easier cabling

Required clamps for mounting on top of mast: GC-048
The control cable must have 6 wires.
REQUEST OR ORDER AZIMUTH ROTATOR......
Shipment is to lot's of countries possible, we will be
glad to E-mail you a quotation, or use the Quote request page.

All prices are inc. 21% VAT, if your delivery address is outsite the EU countries no V.A.T. applies, and no VAT applies, if you are inside the EU countries and holding a V.A.T. number.