Payment Through PayPal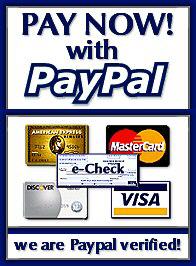 We accept world-wide payment's via PayPal !!

ATTENTION:
If your country is not listed or available with PayPal, or you don't like to pay via PayPal, please contact us directly via e-mail or the quote request page.

Terms of payment RF HAMDESIGN:
Find all info here: terms of payment page RF HAMDESIGN.
PAYMENT:

* Payment is done via PayPal, it's secure and very fast.
* PayPal handle orders from within the EU and from outside the EU.
* You can use Visa, MasterCard, Discover, and American Express to fund your PayPal payment.
* PayPal is available to people in lot's of countres
* PayPal surchage is 5.5% ** (PayPal fee)

Payment through Credit Card:
You can pay securely by Credit Card (VISA, MasterCard etc) 3.9% surcharge **

Payment through PayPal:
We will sent you a PayPal payment request through PayPal (5.5% surcharge) **
NOTE: We only accept payments in EURO

Payment through bank wire transfer is in most cases the best and cheapest option ! email us for info.
RF HAMDESIGN is registered in the chamber of commerce to Leeuwarden, Netherlands, with number: 62830007 (www.kvk.nl)