SPID, type RAU - Azimuth Rotator Light Version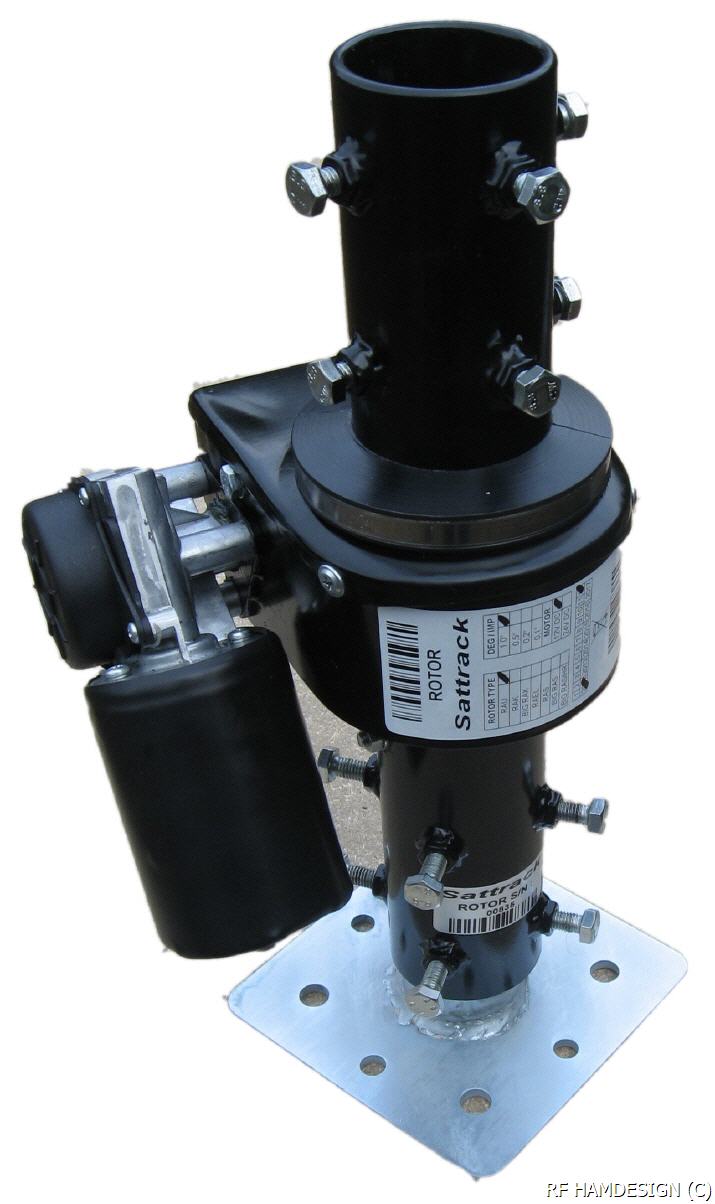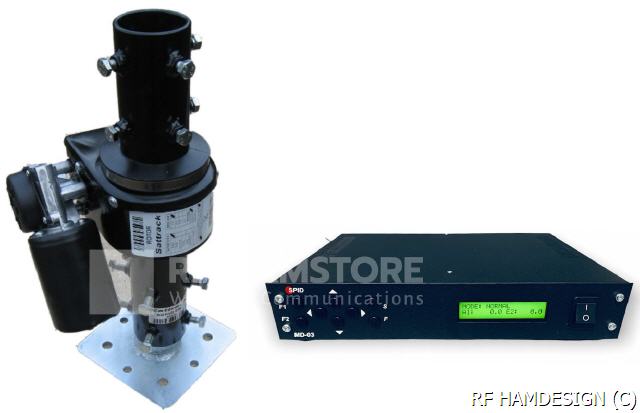 This SPID Azimuth Rotator (RAU) is a light version Antenna Rotator.

Mechanical complexity is reduced to a minimum by utilizing a simple double worm gear drive system. Position readout is sensed by a magnetic reed switch.
The controller has a full complement of features, including digital readout. Controller features may be upgraded in the future with a plug in PROM.

NEWS <> NEWS <>
New model standard controller available @ RF HAMDESIGN.

This MD-03 will replace the Rot1Prog and Rot2Prog controllers in near future.
(Standard controllers are still available, but will be sold out soon)
MD-03 info now processed in the rotor pages.

The SPID Azimuth Rotator has 1 degree positioning accuracy, low voltage - high torque DC gear head motor.

Technical specification:

Operations voltage: 12 - 18Volts DC / Max 4Amp
Resolution: 1 degree
Max Angle of turn: 360° +/-180°
Weight Rotator: 5.9 Kg
Max Vertical pressure: 30 kg
Maximal torque: 180 Nm @ 18 Volts
Rotor needs a 4-core control cable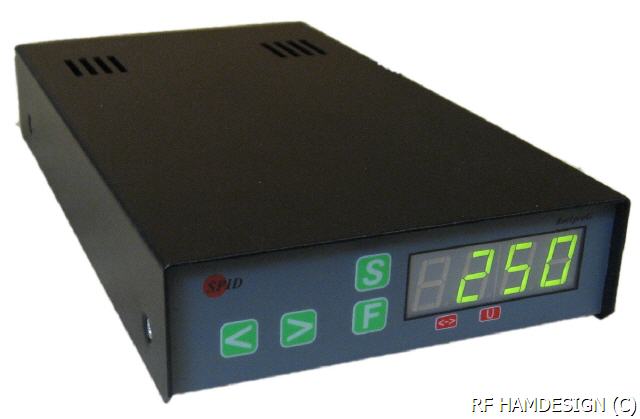 RAU ROTATOR CONTROLLER:

Futures of the SPID controllers which comes with each rotator:

* Manual, Automatic, Scanning, and Programmable modes
* Digital readout with 1 degree resolution
* Large easy to read soft green LED display
* Built in track interface (USB) USB cable included
*The AZ Rotator needs an external power supply of 12... max 18V DC.
Available power supplies page, (12Volt operation, Ideal for camping, DX'peditions, VHF/UHF rovering)
* Can be zeroed at any position to allow for installation inaccuracy or antenna mount slippage
* Generous overtravel (+/-180) with electronic limits Programmable limits ideal for side mount applications
* Small front panel to simplify stacking several units takes up less valuable space
* Incl delivered mouse control with 6 user programmable presets

New model standard controller available @ RF HAMDESIGN.

This MD-03 will replace the Rot1Prog and Rot2Prog controllers in near future.
(Standard controllers are still available, but will be sold out soon)

Existing users of Rot1 or Rot2Prog controllers can change to MD-03 if needed.

RF HAMDESIGN Already offers the new MD-03 and PS-03 (Power supply) for use with all standard pulse count SPID and SPX antenna rotators.

MD-03 rotor controller is supplied incl:
Connector set
Built in Track interface for Azimuth and Elevation and X/Y rotators
Flash firmware (Easy to do by user)
Access to our /HR support page (how to flash the MD-03)
Setup Doc (PDF) to start with MD-03 controller
Option available: Ethernet Module, Mouse, Current Measurement Module CMM and Power supply PS-03.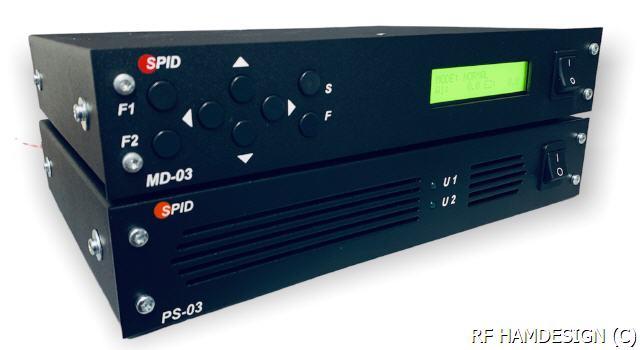 Specifications:
Weight MD-03: 3Kg
Dimensions MD-03: 34x26x6,5 cm (WxLxH)
Operations voltage 12...18Vols DC / 15Amp (Suitable Power supply: PS-03)

MD-03 controller fits to all standard pulse count rotators: SPID RAS, BIG-RAS, RAK, BIG-RAK, RAU and RAEL rotators, as well all SPX standard pulse count rotators.

Power supply:
Refer price list for PS-03 Power supply which fits to MD-03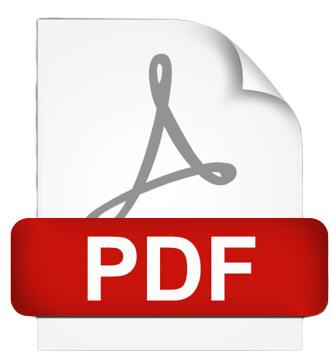 Download Specifications SPID RAU [388 KB] in PDF Formats
SOFTWARE FOR SPID AZIMUTH ROTATOR

One engine system (1 rotor). Program SPID.LOG is used to:

* evaluation of azimuth and distances automatically and send data to AZ controller
* communication logger - including cataloque with LOG, PREFIX, LOG.Book
* possibility to upgrading datas possibility to use readymade libraries from CD-ROM ( CALL-Book, HAM CALL)
* build in printing procedures for all kinds of data collection: LOG; PREFIX; LOG Book; QSL (stikers); QSO connetion table.
* Projection of 180 maps (on mouse click). Transmisjon option: manual sending data (angle) to the AZ Controller or automaticly work with other short wave software

* PstRotator - Universal Track software, for Azimuth, shareware, YO3DMU.

*Note: All SPID rotators are able to emulate Hy-Gain, Yaesu and Orion control units, is it compatible to almost any software.
(Note: In Emulation modes only the most basic commands can be used)
REQUEST OR ORDER AZIMUTH ROTATOR......
Shipment is to lot's of countries possible, we will be
glad to E-mail you a quotation, or use the Quote request page.

All prices are inc. 21% VAT, if your delivery address is outsite the EU countries no V.A.T. applies, and no VAT applies, if you are inside the EU countries and holding a V.A.T. number.

OR: ORDER ONLINE IN OUR WEB-STORE
+++++++++++++++++++++++

Visitour Web-Shop: www.rfhamstore.com