RF HAMDESIGN - DISH KIT Accessories
CLX-1 DISH Feed clamp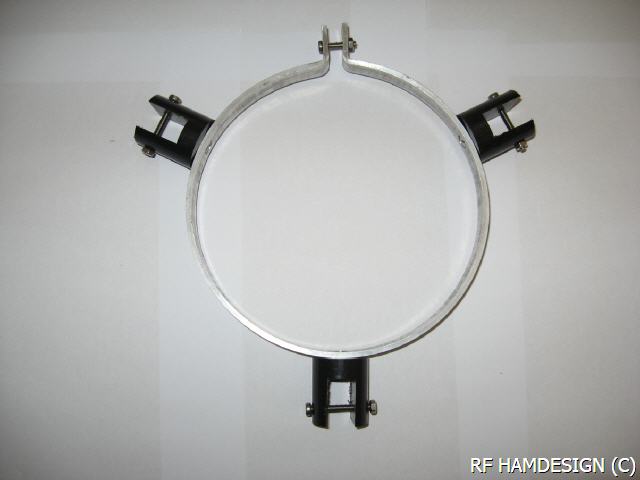 Mounting Bracket for RING Dish feeds and HORN dish feeds which do have a >diameter of 100mm.
This Bracket is used to place the feed in front of the dish by use of a 3-leg dish feed support

Supplied including mounting hardware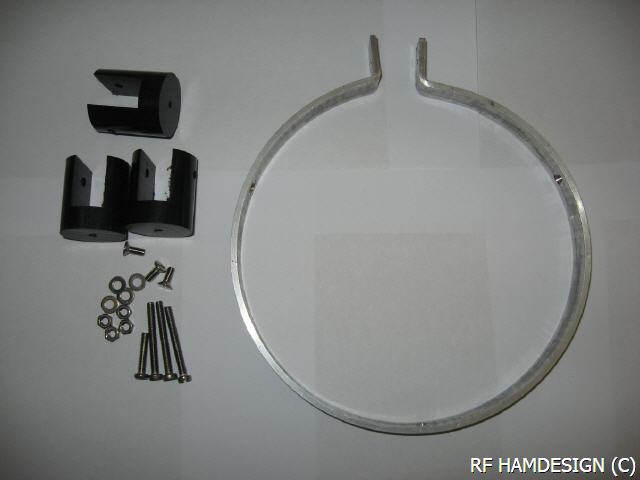 Material used:

UV resistant POM (black) and aluminum

PRICE: Refer PRICE list
P/N: CLX-01
CLX-2 DISH Feed clamp

Clamp for use with HORN DISH Feeds.
This clamp is used to place the feed in front of the dish. Deliverd inc all parts.
All delivered material UV-resistant !
Note: Clamp, CLX-1 kit is incl. the DISH KIT when ordered incl. dish feed.

PRICE: Refer PRICE list
Type CLX-2
Bracket used to mount your dish in a fixed position

This bracket can be fixed in elevation from 0 to max 90 degree.
Supplied including mast mounting bracket
Weight: 2.5Kg
Max. Mast mount diameter: 52mm

Price BR-50: Refer PRICE list

Note:
Bracket BR-50 can be used with Mesh Dish diameter: 1, 1.2, 1.5 & 1.9 Meter.
Bracket used to mount your dish in a fixed position

This bracket can be fixed in elevation from 0 to max 90 degree.
Supplied including mast mounting bracket
BR-50B can be used with our Mesh Dishes up to 3 Meter diameter.

Weight: 6 Kg
Material: 5mm laser cut Steel plate, painted Black
Max. Mast mount standard 63....66mm diameter

Price BR-50B: Refer PRICE list

More pictures: Accessories part