YAESU G-1000DXC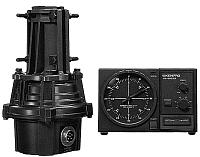 Now it's getting even more interesting.....

Newly developed rotators for medium size short wave beams and big 145MHz antennas with 450 degree rotation (i.e. 90 degree overlap enabling simple and fast change of direction). T

he control box has snap action rotation control switches and a 360 degree illuminated indicator with selectable zero-point. Mechanical AND electrical brake system. Snap on-off cable connector for rotator as well as control box enables easy wiring. Required mast clamp when mounted on a supporting mast: type GC-038.

The G-1000 has the same features and data as the G-800, however, has a 1.5 times higher brake torque (see table).
Suited for real big short wave beams.

The control cable must have 6 wires.
REQUEST OR ORDER AZIMUTH ROTATOR......
Shipment is to lot's of countries possible, we will be
glad to E-mail you a quotation, or use the Quote request page.

All prices are inc. 21% VAT, if your delivery address is outsite the EU countries no V.A.T. applies, and no VAT applies, if you are inside the EU countries and holding a V.A.T. number.