YAESU G-450 / G-650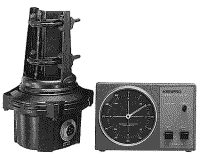 Medium-duty applications for your antenna systems.

Features mechanical and electrical stop.
The brake construction keeps the antenna positioned, however, allows the antenna to turn in case of heavy winds.
The indicator is self-calibrating after power on.
Required mast clamps for mast installation: GC-038.

The model G-650C is similar to model G-450C, however, features a higher brake torque (see table).
Suggested for smaller short wave beams or medium sized 2m/70cm antennas.
Both models have 450° rotation and integrated mast brackets. Easy on-off cable connection, the control box features a compass meter and 450 degree display.
When used in conjunction with a thrust bearing use 50mm mast diameter.

The control cable must have 5 wires.
REQUEST OR ORDER AZIMUTH ROTATOR......
Shipment is to lot's of countries possible, we will be
glad to E-mail you a quotation, or use the Quote request page.

All prices are inc. 21% VAT, if your delivery address is outsite the EU countries no V.A.T. applies, and no VAT applies, if you are inside the EU countries and holding a V.A.T. number.