YAESU Antenne Rotators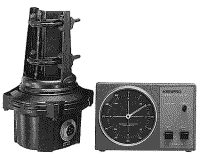 The "turntable" of your antenna system. You save more by spending a bit more...

Our rotator program comprises the well-known YAESU antenna rotators (same as KENPRO) 'Made in Japan'.
Besides the normal horizontal rotators we offer various vertical rotators as well as satellite rotators for combined horizontal and vertical motion of antennas.

Various computer-aided interfaces are available for the larger rotators that allow automatic antenna adjustment.
We also offer required accessories for building more sophisticated rotation systems like: Thrust bearing, rotor platforms etc.

General mechanical technical information about the models G-450 to G-1000DXC: Corrosion-proof die-cast aluminum enclosures, additionally coated for complete weather protection.
Permanently lubricated for years of smooth, quiet operation.
Therefore completely maintenance free! It is possible to center the mast brackets (not possible with models G-450 and G-650) in the middle; then the mast will always be centered independent from the mast diameter (very important when using thrust bearings).

One set of mast clamps are part of the delivery (for G-450 and G-650 the bracket is part of the rotator upper section). In case the rotator will be installed on top of a mast instead on a platform a second set of mast clamps is required (available as additional accessory).

All larger models feature the following specifications:

* 450 degrees rotation adjustable rotation speed
* Various control units are available comprising manual operation or presets
* gear reduction braking
* weatherproof, strong die-cast aluminum enclosures plastic coated

1000 Kgcm = 10 Kgm = 100 Nm.

NOTE: RF HAMDESIGN Deliver each Yaesu Antenna Rotor incl cable connector !