ISS HAM TV
ISS HAM TV

An transmitter is installed in the Columbus module. It can transmit DVB-S signals on 2422.0 MHz or 2437.0 MHz at either 1.3 Msps or 2.3 Msps with 10 watts of RF output.

RF HAMDESIGN can provide you a ISS HAM TV Helix Dish Feed and if you need, a matching parabolic Dish !
ISS HAM TV LHCP HELIX dish feed 2.4 - 2.5 GHz
Left Hand Circular Polarization

LHCP Helix Dish feed, tuned at the ISS HAM TV transmissions Amsat-uk
Specification:

* Connector N-Female
* 50 ohm
* Return loss > 28dB
* VSWR: download plot
* Waterproof
* F/D: 0.45 - 0.5 (Prime Focus)
* Dimensions: D=110mm / L=200mm
* Feed clamp available, type CLX1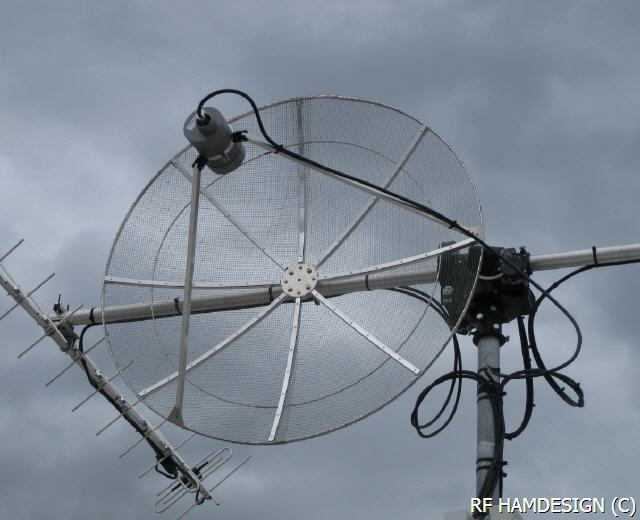 PRICE: EUR. 121,00
Type LH-ISS

Shipment is to lot's of countries possible, we will be
glad to E-mail you a quotation, or use the Quote request page.

ISS Video communicaton by Shane VK4KHZ (Australia)

On Tuesday morning at 1:19am, local Queensland time (Mon 2016-06-13 15:19:15) Shane was asked by the ARISS team to attempt a live video link up with the ISS utilising the HAMTV equipment and my ground station located in Glenden Queensland Australia.
The used ground station (1M2 Dish and ISS Dish feed) was supplied by RF HAMDESIGN.

Comments from Shane - VK4KHZ:
I am happy to advise that your equipment worked well considering the low altitude pass.
This link up was part of a scheduled ARISS link up with students in Ontario Canada.
Some pictures attached below here: