YAESU G-5500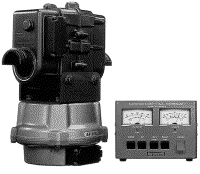 Azimuth-elevation rotator combination for satellite earth station or other antenna system with one common control unit.

Computer-aided antenna pin-pointing via the optional interfaces ARS-EL (see available Rotator interface tab).

The system comprises of the two rotators G-400 and G-550 which are installed on top of each other with the provided U-connector.
REQUEST OR ORDER AZIMUTH ROTATOR......
YAESU G-5500 is SOLD OUT UNTIL FURTHER NOTICE !!