YAESU G-550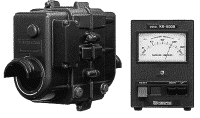 Vertical rotator for satellite and Elevation applications for a basic antenna station

• 180 degree rotation
• automatic stop at the end of the motion
• with disc brake
• aluminum die-cast enclosure, special plastic coating
• for installation the horizontal tube (32-43mm) fits through the rotator and is fixed by means of the provided mounts.

Note: The antenna should be installed in the center of gravity (add counterweight if needed).
Unsymmetrical load must be avoided; the max. load when balanced is 50 Kg.

REQUEST OR ORDER AZIMUTH ROTATOR......
YAESU G-550 is SOLD OUT UNTIL FURTHER NOTICE !!