SPX-06 AZ&EL/BR/HR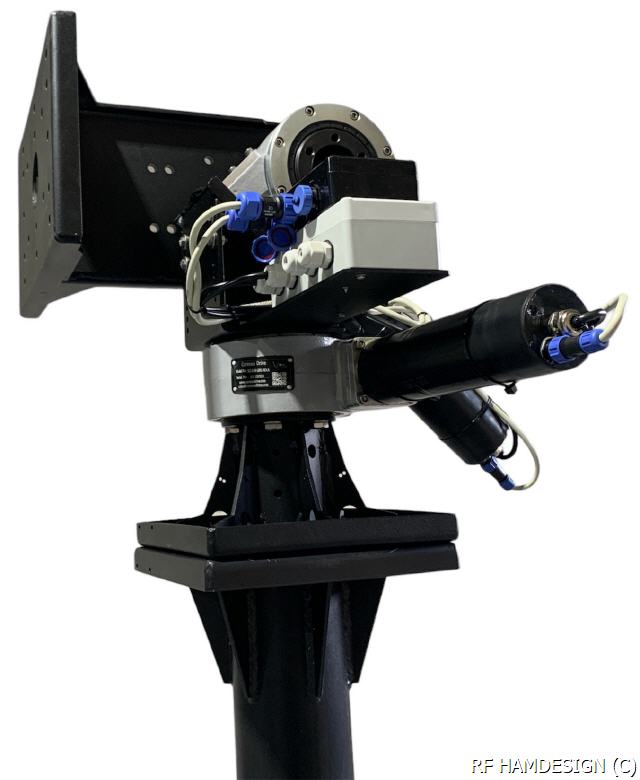 SPX-06/AZ&EL/BR/HR Antenna rotor is designed to rotate in Azimuth & Elevation plane including Antenna Mounting Bracket

SPX-06/AZ&EL/BR/HR is supplied incl antenna mounting bracket and controller and software.
Positions sensors are HALL Effect sensors, resolution: 0.1 degree/step

With this model rotor you are ready to go, no need to add a antenna mounting bracket.
Max mounting diameter RF HAMDESIGN Dish is 3Meter.

SPX-06/AZ&EL/BR/HR is supplied incl controller, model MD-01 or MD-02 which is standard loaded with our new firmware

Unique AZ&EL Rotor System in this price range:.......
With this new MD-0x software you can control a AZ&EL Antenna rotor by using your favorite Azimuth and Elevation tracking software
Connect the MD-0X controller to your PC, install you favorite track program, sent Azimuth and Elevation data to the controller and the rotor will rotate in AZ & EL plane
It is also possible to drive the controller by manual use during front buttons on front of the controller.

To control the rotor through the MD-01 or MD-02 controller you need 4-core control cable for motor (1.5mm2) and 6-core shielded control cable for positions control

* SPX-06/AZ&EL/BR/HR will handle heavy Duty systems arry's and 1 - 3.0 Meter diameter RF HAMDESIGN Mesh Dish.
Note: For smooth Azimuth & Elevation rotation it is recommended to add counterweights.

Optional available a SPID PS-01 or PS-02 power supply which fits perfect to MD-01 / MD-02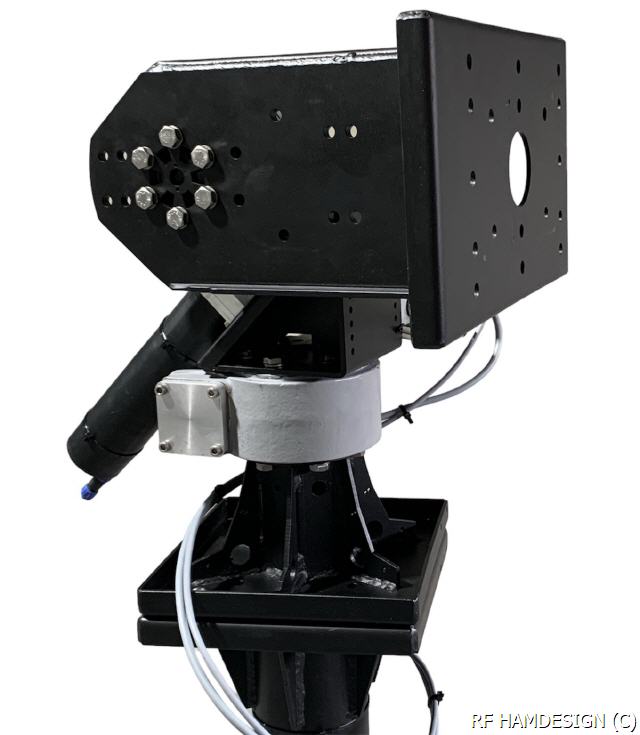 * SPX-06/AZ&EL/BR/HR main body rotor + Flat plate mounting platform
* Postions sensors: Hall Effect Sensors
* MD-01 or MD-02 Rotor Controllor with Display
* MD-01dde Software (to control rotor from PC)
* Build in track interface and version v2.0.xxx Firmware (USB)
* IP-68 Connectors
* Connectors used for control cable and power supply
* Fast setup document (RF HAMDESIGN Document)
* Free and fast reply during support questions
* Acces RF HAMDESIGN SPX and SPID Technical Support page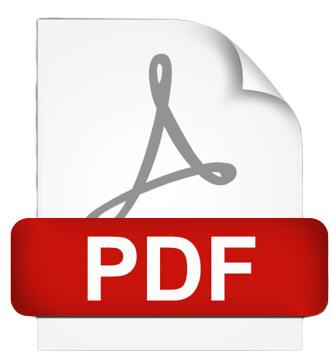 Download SPX-06/AZ&EL/BR/HR Antenna rotor Specifications Sheet.
Shipment is to lot's of countries possible, we will be
glad to E-mail you a quotation, or use the Quote request page.

All prices in EURO, if your delivery address is outsite the EU countries no V.A.T. applies, and no VAT applies, if you are inside the EU countries and holding a V.A.T. number.