RF HAMDESIGN - 3dB Hybrid RING Couplers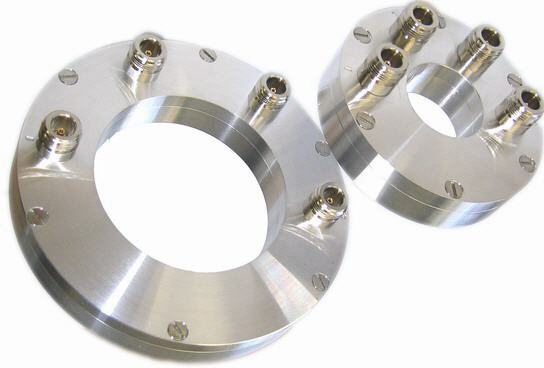 This 3 dB Hybrid Ring Coupler (0°/180°), also called a "rat-race coupler", is a high-power capable, four-port device optimized to sum two in-phase combined signals with essentially no loss or to equally split an input signal with no resultant phase difference between out and inputs. The fourth port is terminated.

But it is also possible to configure the hybrid ring coupler as a 180° phase-shifted output divider or to sum two 180° phase-shifted combined signals with almost no loss.
The fourth port is terminated.

Combine RF Power Amplifier:
So this is the right solution to combine power amplifiers up to 1000 Watts. To combine 2 Power amplifiers you will need 2 couplers.
All 3dB Hybrid Ring Couplers are deliverd including connection diagram.

Special tanks to Eene, PA3CEG for precious help calculation this ring hybrid, also thanks to Frank, PA2M who made the measurements reports.
Max. RF Power: 1500 watts
reflection (return loss): min. 26dB
Insertion loss < 0.1 dB
Isolation output ports >40 dB
Phase balance (when used as 180 dgr device): +/- 2 dgr
Impedance: 50 ohm
Frequency range: 1.1 - 1.6 GHz
Nickel plated N-Female connector with gold plated contact pins
PTFE insulation
Precision Milled aluminium housing
Download PDF measurement plots [98 KB] 1296MHz coupler
PRICE: Download price list page
Max. RF Power: 1000 watts
reflection (return loss): min. 18dB
Insertion loss < 0.1 dB
Isolation output ports >40 dB
Phase balance (when used as 180 dgr device): +/- 2 dgr
Impedance: 50 ohm
Frequency range: 2.1 - 2.6 GHz
Nickel plated N-Female connector with gold plated contact pins
PTFE insulation
Precision Milled aluminium housing
Download PDF measurement plots [95 KB] 2320MHz coupler
PRICE: Download price list page
Max. RF Power: 300 watts
refelction (return loss): min. 19dB
Insertion loss < 0.1 dB
Isolation between output ports >50 dB (3400MHz)
Phase balance (when used as 180 dgr device): +/- 2 dgr
Impedance: 50 ohm
Frequency range: 3.35 - 3.5 GHz
Gold plated SMA-Female connector with gold plated contact pins
PTFE insulation
Precision Milled aluminium housing
Download PDF measurement plots [105 KB] 3400MHz coupler
PRICE: Download price list page